Digital Printing and Screen Printing
Serigraphic Screen Print offers both digital printing and screen printing. Principally they are a matter of scale. On smaller runs it is more economical to use our digital printer. Digital presses offers customers a quick turnaround time, no tooling charges, and full color quality printing. Great for shorts runs and prototypes. Digital printing does not require separate screens for each color in the order. Color is unlimited and there is no minimum order. There are many advantages to digital printing but the surfaces to which it can be applied are limited.
Our Screen Printing can be done on smaller runs using one of our many our flat bed screen printers. For large runs we have our state of the art carousel screen printer capable of 4000 24 x 48 inch pages per day. Screen printing can be done on a wide variety of materials and offers a wider variety of designs because it allows for thicker ink printing. Due to the simplicity of the application, a wider variety of inks, dyes and colors can be used.
A barcode is an optical machine-readable representation of data relating to the item to which it is attached. Barcodes systematically represent data by varying the widths and spacings of parallel lines. These symbols of your product are single dimensional.
Originally developed in the 1960's by railroads as a means to identify railroad cars. In 1974 Wrigley Company implemented the UPC system on chewing gum. Barcoding became economically viable when the supermarket industry recognized the benefits of being able to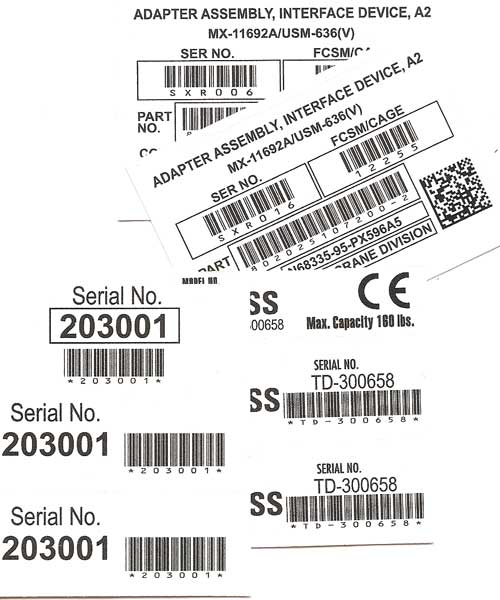 scan products at point of checkout. Today barcodes are a virtual necessity for any mass produced and marketed product.
One Dimensional or Two Dimensional barcodes have the technology to scan and enter your information quickly. Barcoding also minimizes the risk of employees mistyping important data.
The barcode shown is for demonstration purposes only. In it the 36000 represents a brand and 29145 represent the individual product. Serigraphic Screen Print produces both commercial and military barcoding.
We also offer consecutive barcode or serializing when individualized data is required.
QR Coding
QR codes are the square geometric designs becoming common place. QR code is the trademark for Quick Response Code. First designed in Japan in 1994 for the automotive industry, QR codes popularity has increased due to their fast readability and the larger storage capacity. First designed for tracking vehicles and parts, they are used today for many commercial and convenience applications. Serigraphic Screen print produces QR codes for both military and commercial applications.
Choose from one of our many in house dies or customize your cut to enhance your decals appearance. Die cutting provides a shaped decal, overlay or hangtag. The advantages to die cutting are many and mostly related to durability. For example, die cut corners are generally rounded. Corners are where many labels and decals first begin to loose their grip. Rounding the corners makes them less likely to become detached. Die cutting is used extensively when producing Overlays. Holes, windows and plugs are examples of Overlay use that simply could not be effectively done without die cutting.
Grommets
Grommets or Eyelets (as some people call them), are metal or rubber rings that are attached to a variety of materials to prevent tearing where a rope or wire is applied. Increase the longevity of your labels by adding grommets. They are available in a vast array of sizes and are commonly found on Banners. Short Video
Automated Coating Machine