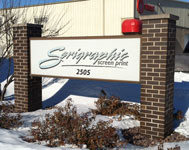 Warning, Safety, Danger or Caution labels, they all remind us of the threat of possible danger. These labels help increase safety in the workplace and to the general public. They are constructed to OSHA specifications and guidelines. They are available in a variety of materials, adhesives, inks and laminations for indoor or outdoor use.
Materials, adhesives and laminations are available for heat, UV and chemical resistance.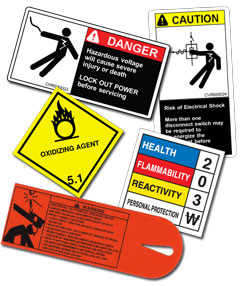 NFPA Chemical Hazard Labels NFPA 704 Diamond decals for the Identification of the Hazards of Materials show the Health, Flammability, Instability/Reactivity and Special Hazards. NFPA 704 Diamonds can be preprinted with numbers or a kit of easy to apply number stickers so you can customize diamond.
DOT Placards, HAZ-MAT , ADR Hazard Identification Number (HIN), The Kemler Code, American National Standard Institute (ANSI), National Fire Rating (NFR), National Fire Protection Agency (NFPA), International Labeling of Dangerous Goods, International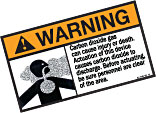 Maritime Dangerous Goods (IMDG), OHSA, Lock Out Tags, Caution, Warning and Danger and other screen printing safety decals, stickers and labels.
Be sure your products, vehicles, equipment and hazardous areas are labeled properly.
Choose from our industry standard symbols and artwork or our artists can custom design a safety decal for you.